2014-05-02 El Juez (Christian Kolonovits), Teatro Arriaga (Bilbao)

Federico = Josep Carreras
Paula = Sabina Puértolas
Alberto = José Luis Sola
María/1ª monja = Mª José Suárez
2ª monja = Itziar de Unda
Paco (cameraman) = Manel Esteve
Abadesa = Ana Ibarra
Morales = Carlo Colombara
Hombre 1 = Alberto Núñez
Hombre 2 = Giorgi Meladze
Hombre 3 =José Manuel Díaz
Hombre 4 = Mikel Zabala
Mujer mayor = Milagros Martín
Figuración (niña) = Laia de la Fuente

David Gimenez, conductor
Coro niños perdidos: Kantika Korala
Director: Basilio Astúlez
:
Coro: Coro Rossini
Director coro: Gerardo Carbajo
:
Orquesta: BIOS

Dirección escénica: Emilio Sagi
Escenografía: Daniel Bianco
Figurinista: Pepa Ojanguren
Iluminación: Eduardo Bravo
Ayudante de dirección escénica: Javier Ulacia
Maestra repetidora: Husan Park
Realización de escenografía: Neo Producciones

Realización de vestuario: Pepispoo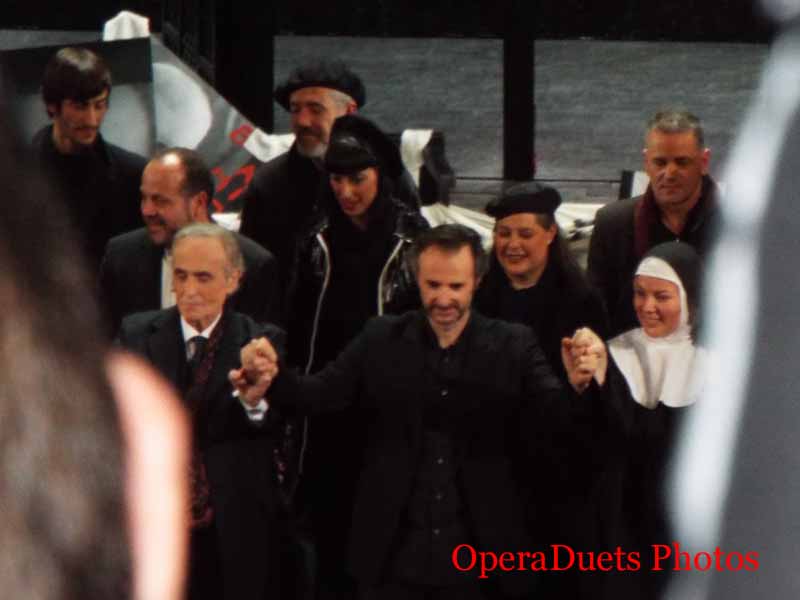 A new opera in Bilbao, an old one in Barcelona. Josep Carreras in a new role as the Judge Federico Ribas. The tragedy happens when people agree to dubious thing for a supposed higher reason. It was another villain role for Carlo Colombara. The Italian bass was Morales. Morales is a role cast from the same mold as Baron Scarpia in Puccini's Tosca. Even worse than Scarpia and more towards Mefisto. Pure evil but suppossedly in the service of the Church. Probably just after power and lust for violence.
Alberto is a man in search of his brother. The brother is one of The Lost Children. Children taken by the Church and given other parents without knowledge of the truth. Alberto with journalist Laura is on the task to find out more of the lost children. This threatens the Church and Morales. So Morales talks to Alberto and promises him to know who his brother is. The catch is that the judge that Alberto will threaten is Alberto's brother. And Morales knows this, so he will crush two in one crash. Before any happy end can happen Morales kills Alberto. As Alberton lies dying, brother meets brother. SAD END!!!
Real tears rolled down at the end of this opera. I seldom react like that so for me this means El Juez is a triumph for the composer and the singers and whole theatre. BRAVI, tutti!!!
For more reviews from my travels, see www.operaduetstravel.com If you want to see more photos from my OperaDuets Travels, go to www.operaduetsphotos.com