1992-07-03 Recital Jose Carreras, Kongresshaus Innsbruck

Josep Carreras, tenor
Lorenzo Bavaj, piano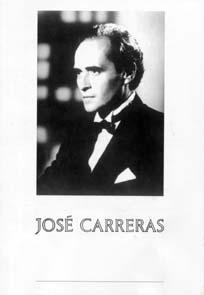 ALESSANDRO SCARLATT Già il sole dal Gange
(1660 Palermo - 1725 Neapel) (Schon die Sonne am Ganges)
TOMMASO GIORDANI Caro mio ben
(um 1730 Neapel - 1806 Dublin) (Mein geliebtes Gut)
ALESSANDRO STRADELLA Pietà, Signore
(1642 Modena - 1682 Genua) (Erbarmen, Herr)
GIOACCHINO ROSSINI Valse lugubre (Piano solo)
(1792 Pesaro -
1868 Passy bei Paris)
SIR FRANCESCO PAOLO TOSTI Apri (Offne ...
(1846 Ortona - 1916 Rom) Vorrei morire (Ich mdchte sterben) L'ultima canzone (Das letzte Lied)
ASTOR PIAZZOLLA Milonga del angel (Piano solo)
(* 1921 Prov. Buenos Aires)
FERNANDO J. OBRADORS Del cabello mas sutil
(1897 - 1945) (Von feinstem Haar)
TATA NACHO Tengo nostalgia de ti
(1894 - 1963) (Ich habe Sehnsucht nach dir)
lntima (Innigste ... )
SALVATORE CARDILLO Core ngrato (Undankbares Herz) (1874 - 1947)
GRANADA
During a holiday in St. Johann in Tirol (Austria), after Vipiteno and shopping, we came to Innsbruck to our way back to St. Johann. I noticed some posters with Jose Carreras face on. With my camera I took a snapshot, and thought that would be it. Later on I saw more big posters, with the name of the venue, and decided to get a program or something, so I went to Komgresshaus Innsbruck, I asked also if there were any tickets left. AND IT WAS. 1000 Austrian Schilling, that I didn't have, rushed back to my parents, and then I got a ticket, and I had to take the train to St. Johann. Wonderful seat, wonderful concert. SOMETIMES one gets LUCKY!!!
July 3/1992
Kongresshaus Innsbruck
Jose Carreras, tenor
Lorenzo Bavaj, piano
OD Travel