2011-06-10 Il Corsaro (Verdi), Konzerthaus Dortmund

Medora = Elena Mosuc
Gulnara = Maria Guleghina
Corrado = Zvetan Michailov
Seid = Sebastian Catana
Giovanni = Adrian Sampetrean
Selimo / Un Eunuco Negro / Schiavo = Florian Simson

Carlo Montanaro, conductor

Chor der staatlichen Musikakademie Minsk, WDR Rundfunkorchester Köln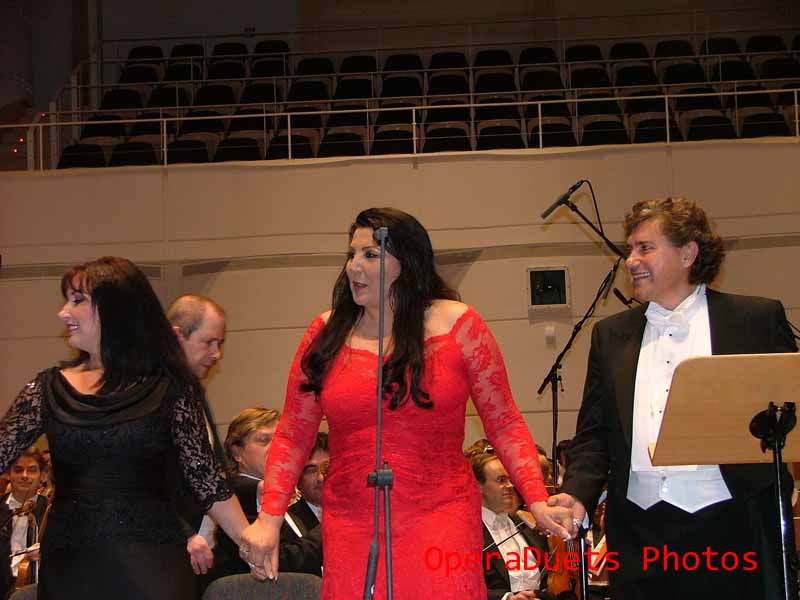 Il corsaro
Maria Guleghina (Gulnara), Elena Mosuc (Medora), Giuseppe Varano (Corrado), Sebastian Catana (Seid), Adrian Sampetrean (Giovanni), Chor der staatlichen Musikakademie Minsk, WDR Rundfunkorchester Köln, Carlo Montanaro (Dirigent)
WDR Köln
Maria Guleghina and Elena Mosuc impressed in Dortmund. Zvetan Michailov substituted for Giuseppe Varano.
The conductor Carlo Montanaro made the WDR radio orchestra play with love this vigorous music of Young Verdi. One could see how the orchestra members really enjoyed themselves. The smaller roles Seid (Sebastian Catana), Giovanni (Adrian Sampetrean), Selimo / Un Eunuco Negro / Schiavo (Florian Simson) was sung and acted brilliantly.
The older Bulgarian tenor Zvetan Michailov sang, not the younger Italian tenor Giuseppe Varano. To see Michailov sing was like you were in a recording studio. He looked at the notes and used his arms to force music out in the right moments. His voice was always a bit special, a dry voice and also a voice that you not easily would believe another tenor to be master of. His acting was more a singer struggling for perfection than acting as Corrado. I have a DVD with Michailov as Corrado from Parma opera. He was older now, but still a good Corrado.
Then it was Elena Mosuc. Elena Mosuc was a super delicate Medora. This was another mannerism than Zvetanov. Where Zvetanov went deep to find voice and a perfect attack to the notes, Elena Mosuc went deep into herself to find the intepretetative depth for Medora.
Finally it was Maria Guleghina as Gulnara. The dramatic powerhouse of a diva. She played two roles: one as Maria Guleghina DIVA, another as Gulnara, the favorite slave of Pascha Seid. In an newspaper it was commented that this duality was a little bit ironic but I believe that Maria Guleghina was completely aware of this and played that game also. A powerhouse as Gulnara, yes, that is the right approach. Gulnara is maybe a slave but she is still not subdued. She can stand on her own feet against the powerful pascha. She is fierce, just like Maria Guleghina's voice and appearance. No helpless heroine like Medora but as powerful as Corrado. In a way she got more guts and intelligence than Corrado. She takes her oppurtunities. No need to fear that Gulnara will choose death and not life after the death of Medora and Corrado.
It was Maria Guleghina and Elena Mosuc who won. BRAVA, Maria! BRAVA, Elena! So different and both so perfect in each of their roles.
After 2 speeches Verdi's opera Corsaro was played. Zwetan Michailow was singing Corrado in stead of the original tenor who was sick, I guess. He did a fine job. But it was the women that ruled. Elena Mosuc was sensational and so was Maria Guleghina. Then men was fine but Elena Mosuc and Maria Guleghina was in another stratosphere. The conductor was also great. He made the orchestra play with a singular clarity and put forward all the wonders that lays in this score. The orchestra members seemed to love playing this music, one could almost look at then to see that to they had taken the music to their heart. The chorus was young and clear.
Now if only this had been staged too.
Brava, Maria! Brava, Elena!
OD Travel
+
Photos
First impression from Dortmund and IL CORSARO
(Original blog post)
For more reviews from my travels, see www.operaduetstravel.com If you want to see more photos from my OperaDuets Travels, go to www.operaduetsphotos.com