2006-12-15 Opera Concert, Munich Herkulessaal der Residenz

Agnes Baltsa, mezzo
Münchner Symphoniker
Nikos Athinäos, conductor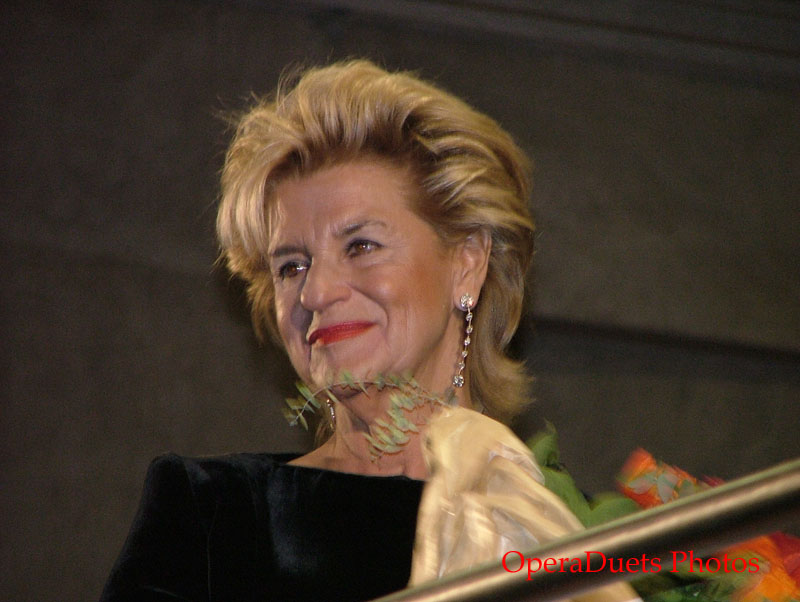 1:
Verdi: Ouvertüre zu "La forza del destino"
The concert started in a grand way with the ouverture from the opera La Forza del Destino by Giuseppe Verdi. Wonderfully played by the orchestra.
Verdi: La canzone del velo aus "Don Carlo"
Agnes Baltsa had the most thunderous applause from the audience even before a single note was sung. To start with the Veil Song from Don Carlo was a bold decision. What a coloratura!! Unfortunately the part of the aria that Eboli sings with Tebaldo was not so glorious sung but that is what sometime happen when an opera aria becomes a concert piece. If Baltsa had sung Tebaldos line it would
have sounded better, I think. Major applause for Agnes Baltsa. BRAVA!!!
Massenet: Vorspiel zum 1. Akt aus "Werther"
Massenet: Va! Laisse couler mes larmes aus "Werther"
The orchestra plays the Prelude very well. And when Baltsa sings Charlotte's aria, we just love it, it is Agnes Baltsa at her best. But we want more of Charlotte, The music stops too sudden, "Sudden death". It just takes us with total surprise. Please do a better work when opera arias are to be changed to concert pieces. BRAVA, Agnes!!!!
Bizet: Zwischenspiel zum letzten Akt aus "Carmen"
Bizet: Carreau, pique... la mort! aus "Carmen"
Too much "sudden death", Entr'acte to 4th act of Bizet's Carmen, would have loved to hear a bit A dos cuartos, too.
Agnes Baltsa sang a wonderful Carreau, pique! but it ends too abruptly why not a bit of the ending with Mercedes and Frasquita in the orchestra. BRAVA, Baltsa!!
Berlioz: Ouvertüre zu "Die Trojaner"
Berlioz: Ah! Ah! Je vais mourir aus "Die Trojaner"
For the first I hear the ouverture to Berlioz Les Troyens and quite frankly that made me want to hear the whole opera (on CD first, naturally). And finally a piece that stands on it own. Makes it the perfect ending for the first part of this concert. Again Agnes Baltsa is absolutely wonderful, again totally in role and of course the audience just can't have enough of her. BRAVA!!!!
2:
Rossini: Ouvertüre zu "Italiana in Algieri"
Rossini: Cruda sorte aus "Italiana in Algieri"
Another very well known ouverture as opening, this time it is L'Italiana in Algeri by Gioacchino Rossini. The orchestra is very good but it sound better in an opera house with an orchestra who really get into the part that this is a comic opera. As a concert piece they played it well. I wished I were at an opera house... Agnes Baltsa on the other hand was totally Isabella. There are other arias I would also have liked her to sing, but the singing was too glorious to have any complains like that. BRAVA, Bravissima!!
Saint-Säens: Bacchanale aus "Samson und Dalida"
Saint-Säens: Amour, vienne aus "Samson und Dalida"
Wonderful played and sung. A very good bacchanale from Samson et Dalila. Agnes Baltsa is super as Dalila but I don't think anyone will think badly of me for wishing she sang Mon coeur s'ouvre a ta voix. That said, she sang it with all her heart and passion. And we just loved her. BRAVA!!
Mascagni: Intermezzo aus "Cavalleria rusticana"
Mascagni: Voi lo sapete, o mamma aus "Cavalleria rusticana"
The Intermezzo was wonderful. And it was really one of the best Voi lo sapete, o mamma I had ever heard. Stupendous! Baltsa is the best Santuzza ever!!!
extra:
Puccini: O mio babbino caro aus "Gianni Schicchi"
Bizet: Habanera & Seguidilla aus "Carmen"
No shock this time that Die Baltsa would choose O mio babbino caro from Gianni Schicchi. I am not even surprised that she sings it better than most if not all sopranos. And as "always" Habanera and Sequidilla from Carmen as encores. And this time I really got it, why Agnes Baltsa would sing the Seguidilla as last encore. She just absolutely adores to sing it. Agnes Baltsa's happiness was just echoed in the house. How we applauded, wanting even more!! Myself was really wishing for O don fatale from Don Carlo... But even if that never happened it was just a remarkable opera evening with Agnes Baltsa!!!!!
BRAVA! Bravissima!!! more more more.
Münchner Symphoniker
Nikos Athinäos LEITUNG
Freitag, 15. Dezember 2006
20 Uhr, Herkulessaal Abo
OD Travel
+
Photos
For more reviews from my travels, see
www.operaduetstravel.com
If you want to see more photos from my OperaDuets Travels, go to
www.operaduetsphotos.com