2009-12-12 La Fanciulla del West (Puccini), Den Norske Opera & Ballet, Oslo

Minnie = Paoletta Marrocu
Dick Johnson (Ramirez) = José Cura
Jack Rance = Jason Stearns
Nick = Svein Erik Sagbråten
Ashby = Magne Fremmerlid
Jake Wallace = Njål Sparbo
Sonora = Ole Jørgen Kristiansen
Bello = Mads Wighus
Happy = Eirik Roland Egeberg-Jensen
Joe = David Fielder
Jim Larkens = Ketil Hugaas
Trin = Kjell Magnus Sandve
Harry = Henrik Engelsviken
Sid = Espen Langvik
José Castro = Carsten Stabell
Wowkle = Sigrid Ohlsson
Billy Jackrabbit = Bo Elley
Postiglione = Paul Kirkby

Joseph Colaneri, conductor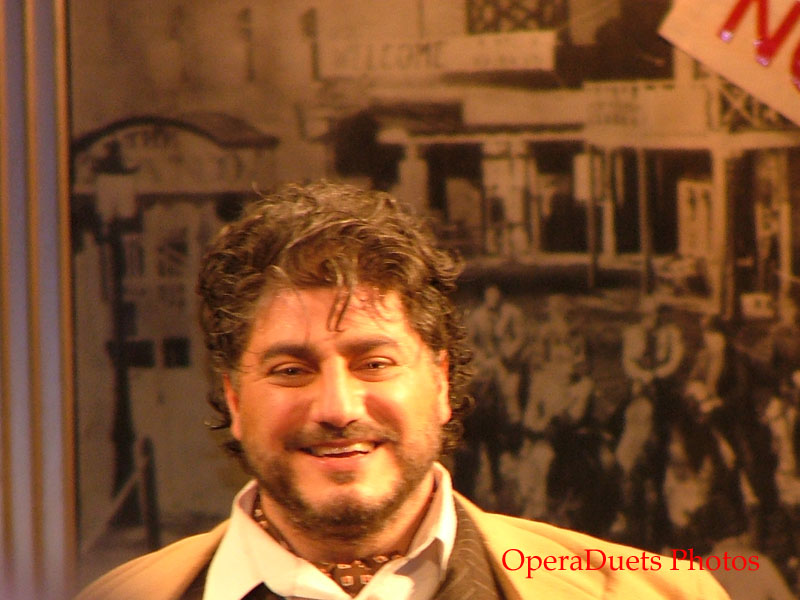 This is a production from Vlaamse Opera Belgium.
Music: Giacomo Puccini
Libretto: Guelfo Civinini og Carlo Zangarini
Director: Robert Carsen
Set design/ costumes: Paul Steinberg
Lighting design: Robert Carsen and Peter van Praet
The Norwegian Opera Chorus
The Norwegian Opera Orchestra
Sung in Italian, Norwegian and English subtitles
Duration: App. 3 hours
It was the first time for me in the new Opera House in Oslo. And it was the first time for Jose Cura in Oslo. He sang Dick Johnson in Puccini's La Fanciulla del West. It is almost one of his calling cards. Among many people also a quite a number of Cura fans. Jose Cura Connexion was well represented there. Old and new friends together.
It was to be a magic night. But at the beginning of the opera I really thought that it would be a boring opera night. I was so totally wrong about that. I have never seen this opera without having moments of boredom but not in Oslo. The Robert Carson production from Vlamse Opera held me in its grip. It was first time I saw this production so I cannot say how much influence the presence of Jose Cura did have to the ensemble of Den Norske Opera. It was no doubt that this was one of Jose Cura finest Dick Johnson. The singing and everything was simply the best Dick Johnson that I have seen Cura do. Paoletta Marrocu was a wonderful actress as Minnie, her voice could be unruly but in sum it was a wonderful Minnie. Jason Stearns as Sheriff Jack Rance was all that one could wish for in this role. Fanciulla del West is not the kind of opera where it is enough to have a great soprano, tenor and baritone. This opera is like Wolf-Ferrari's SLY an opera that needs a great ensemble that can act all it different characters.
Conductor:
Joseph Colaneri

Director:
Robert Carsen
Set design/ costumes:
Paul Steinberg
Lighting design:
Robert Carsen
and
Peter van Praet
This production of La Fanciulla del West, The Girl of the Golden West, started with the men sitting in a cinema seeing a Western film. As the prelude ended in the orchestra the men found there western hats and started to act as they were in a saloon drinking with empty hands and then was shooting with empty hands. I thought that it must be hard to remember all that you must when you don't have the props. But it was just the beginning. When Ashby (Magne Fremmerlid) came then it was really something to drink sat on the table. And when Minnie came, she had real gun. And by then it had started to look as a saloon. And she gave all "real theater" whiskey. By the time the bandit Jose Castro came all had real pistols.
So this production was acted like a fantasy but with each new person coming in a new layer of reality was put in. In the end of the opera it is a dream, the miners go into the cinema to see the western film The Girl of the Golden West after Minnie is now dressed like a movie star and so is Dick Johnson, he came out with a sigarett in his mouth very macho and glamorous.
Nex time. Fanciulla 2009-12-14 and Canciones Argentinas 2009-12-17 in Den Norske Opera & Ballett:
www.operaen.no
OD Travel
+
Photos
Original blog post
For more reviews from my travels, see www.operaduetstravel.com
If you want to see more photos from my OperaDuets Travels, go to www.operaduetsphotos.com