2013-11-16 I due Foscari (Verdi), Hamburgische Staatsoper

Francesco Foscari = Andrzej Dobber
Jacopo Foscari = Giuseppe Filianoti
Lucrezia Contarini = Amarilli Nizza
Jacopo Loredano = Ziyan Atfeh
Barbarigo = Dovlet Nurgeldiyev
Pisana = Maria Markina
Fante del Consiglio = Sergiu Saplacan

Simone Young, conductor
Philharmoniker Hamburg
Chor der Hamburgischen Staatsoper

Inszenierung: David Alden
Bühnenbild: Charles Edwards
Kostüme: Brigitte Reiffenstuel
Licht: Adam Silverman
Choreografie: Maxine Braham

Chor: Eberhard Friedrich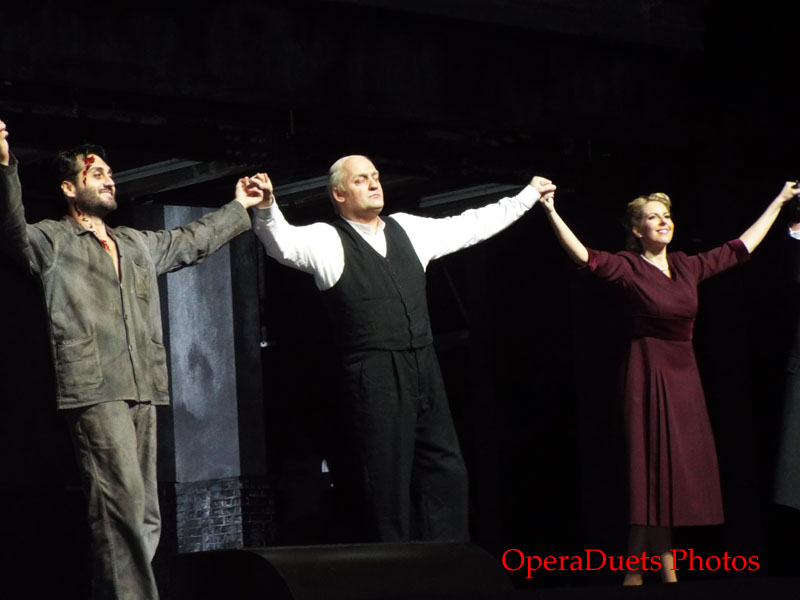 This Due Foscari did not impress me immediately as La Battaglia di Legnano did. I did not warm up at once Giuseppe Filianoti and Amarilli Nizza. Andrzej Dobber was from the first moment on worth the whole trip himself. He is impressive as Doge Francesco Foscari. Amarilli Nizza may be a small woman off stage but she was a gigant onstage. Impressive singing that won me over from Amarilli Nizza. Was it my ear that deceived me or was she a bit hesitant in the beginning, who knows? Pyrotechnics she has. False notes seemed to come off Giuseppe Filianoti in his first scene but from those small misteps he climbed up to the top places.
The production was much like La Battaglia di Legnano. But. Yes, I know, BUT is not a full sentence and barely conceive any meaning still I must leave it like that.
OD Travel & Photos
Original blog post
For more reviews from my travels, see www.operaduetstravel.com If you want to see more photos from my OperaDuets Travels, go to www.operaduetsphotos.com