2000-03-04 Luisa Miller (G. Verdi), Opernhaus Zurich

Graf von Walter = Laszlo Polgar
Rodolfo = Neil Shicoff
Federica = Stefania Kaluza
Wurm = Carlos Chausson
Miller = Giorgio Zancanaro
Luisa Miller = Elena Mosuc
Federica = Stefania Kaluza

Frédéric Chaslin, conductor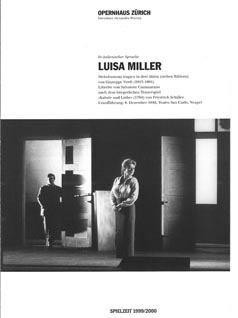 lnszenierung DANIELE ABBADO
Regiemitarbeit BORIS STETKA
Bühnenbild DANTE FERRETTI
Bühnenbildmilarbeit LEllA FTEITA
Kostüme GABRIEllA PESCUCCI,
FLORA BRANCATEllA
Lichtgeslaltung JÜRGEN HOFFMANN
Filmbilder LUCA SCARZEllA
Chor JÜRG HÄMMERLl

Verdi: Luisa Miller
Opernhaus Zurich, March 4,


After Millers great aria in act 1 on man cried "Bravo, Giorgio!"

Stefania Kaluza was great as Federica, a comprimario role, she always have an imposing presence. Laszlo Polgar was in magnificent voice. Wurm was in good hands and voice, Carlos Chausson. Neil Shicoff was a dream for his fans, but unfortunately not for me. Elena Mosuc was a charming Luisa, but I felt that something was missing.

Wonderful to be able to see Luisa Miller live anyway. Love Verdi! and Opernhaus Zürich!

OD Travel

Better listening, a better Luisa & Rodolfo
from AllegroMusic Opera d'Oro with Katia Ricciarelli and José Carreras.

Or Deutsche Grammophon's Luisa Miller with Katia Ricciarelli and Plácido Domingo.