2004-11-06 La Forza del Destino (Verdi), Royal Opera House London

Don Alvaro = Salvatore Licitra
Leonora = Violeta Urmana
Don Carlo di Vargas = Ambrogio Maestri
Padre Guardiano = Ferruccio Furlanetto
Preziosilla = Marie-Ange Todorovitch
Fra Melitone = Roberto de Candia
Marchese di Calatrava = Brindley Sherratt
Mastro Trabuco = Peter Bronder
Curra = Liora Grodnikaite
Alcalde = Jonathan May

Antonio Pappano, conductor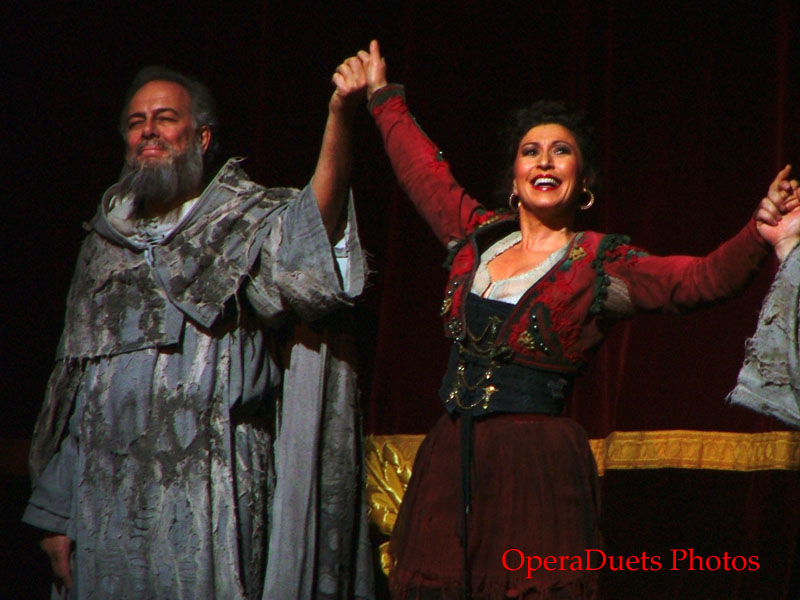 The Royal Opera 2004 - 2005
La forza del destino
Giuseppe Verdi
NEW PRODUCTION
16 October at 6pm
18 | 26 | 29 October at 6.30pm
1 | 3 November at 6.30pm
6 November at 6pm
Sung in Italian with English surtitles
Running time: 3 hours 45 minutes
Supported (2004) by The Jean Sainsbury Royal Opera House
Fund
La forza del destino reappears in the Royal Opera repertory after nearly 30 years. When Leonora's elopement with her lover Don Alvaro is interrupted by her father, the result is death and a curse: and so begins a fate-driven story of unknown identities, accidental reunions and dark confrontations.
This grand and traditional production is presented at Covent Garden with an exciting cast of singers both familiar with and new to this staging. Salvatore Licitra makes his House debut as the ill-fated Alvaro, the most difficult of tenor roles, opposite Violetta Urmana as the tragically cursed Leonora. Ambrogio Maestri makes his House debut as Don Carlo di Vargas, Leonora's brother who unwittingly rescues Don Alvaro, the man he has sworn to kill. With the returns of Ferruccio Furlanetto (Padre Guardiano), Marie-Ange Todorovitch (Preziosilla) and the Company debut of Roberto de Candia (Fra Melitone), Verdi's high melodrama is once more set to thrill.
Conductor:
Antonio Pappano
Staging:
Patrizia Frini
Lighting:
John B Read
Based on a production from
La Scala, Milan
WOW, the ouverture of Forza was extremely well played and conducted by the ROH Orchestra and Antonio Pappano. Unfortunately the high quality was not continuing the whole opera. Just simply to operatic, this opening of the curtain and the Marquis of Calatrava in freeze position until the opera singing started. Wrong, this opera starts
with us seeing what in a middle of a scene of a father and daughter together talking. The opera starts when the father is going from his daughters room. (not a BIG fault, you know, but irritating). Violeta Urmana is singing and at time also acting Leonora wonderfully, but she look too solid and not young enough as I see Leonora. The father
looked younger than his daughter. Luckily Salvatore Licitra as Don Alvaro saves act 1 from being a complete bore. Heavy-built Licitra with his energy and this man can also run so you can believe that he can be a brave soldier and handsome seducer. Wonderful tenor voice, sometimes it seems strained. Salvatore Licitra seem to be a very good-natured man, as Don Alvaro a man destiny hates, it seems strange mix.
I think it was totally wrong to use ballet dancers into Forza. All those posing, making the dancing and musicality of the chorus moments into strange things put into the opera and they did not seem to belong there. With less obvious choreography and more real people like chorus members etc singing and dancing and not those skinny
ballet dancers and it would have been more a natural integrated part of the opera, the dancing in the tavern, in the open... This Preziosilla, Marie-Ange Todorovich, acted and sang wonderfully, but the voice looses against the orchestra and I don't hear a true mezzo/alto voice as I longed for. Knowing that Ambrogio Maestri is singing Don Carlo means that you know that the student is Don Carlo, he is just so big and tall. He is not a bad Don Carlo but he is not a great Don Carlo, you can easily forget him, only a big man, the physical shape of Maestri remains.
But Ferruccio Furlanetto as Padre Guardiano was wonderful. Wonderful sonorous voice, commanding presence. Fra Melitone was too much, to much bass, too little humor.
This production from La Scala, or based on it, yes it was a traditional production but as it seem to be asking for realism, it forgot to be truthful to realism, that need real people doing thing thing to real reasons. It was too operatic, stupid even. Why was Fra Melitone so heavy-handed in humor, if Melitone had been considered as a
real human being and not a caricature, the humor would have come through much more efficiently, I think.
I think the radio viewers was much more lucky than us, even though Roberto Alagna and his wife Angela Gheorghiu was there. BBC radio 3 was lucky they could he a wonderfully sung Forza and see the perfect performance in their imagination. In stead of La Scala production with its promises never to be met.
Loved Salvatore & Ferruccio, not La Scala's Forza....
OD Travel
+
Photos
For more reviews from my travels, see
www.operaduetstravel.com
If you want to see more photos from my OperaDuets Travels, go to
www.operaduetsphotos.com