1998-10-25 Fedora (Giordano), Opernhaus Zurich

Fedora Romazoff = Agnes Baltsa
Loris Ipanoff = Josep Carreras
De Siriex = Philippe Duminy
Olga Sukareff = Sona Ghazarian
Boleslao Lazinski = Thomas Grabowski
Dr. Boroff = Rolf Haunstein
Baron Rouvel = Emilio Ruggiero
Grech = Giuseppe Scorsin
Cirillo = Rudolf A. Hartmann
Désiré = Miroslav Christoff
Nicolas = Arno Weinländer
Sergio = Peter Kálmán
Dimitri = Judith Schmid
Dr. Lorek = Damon Nestor Ploumis

David Gimenez, conductor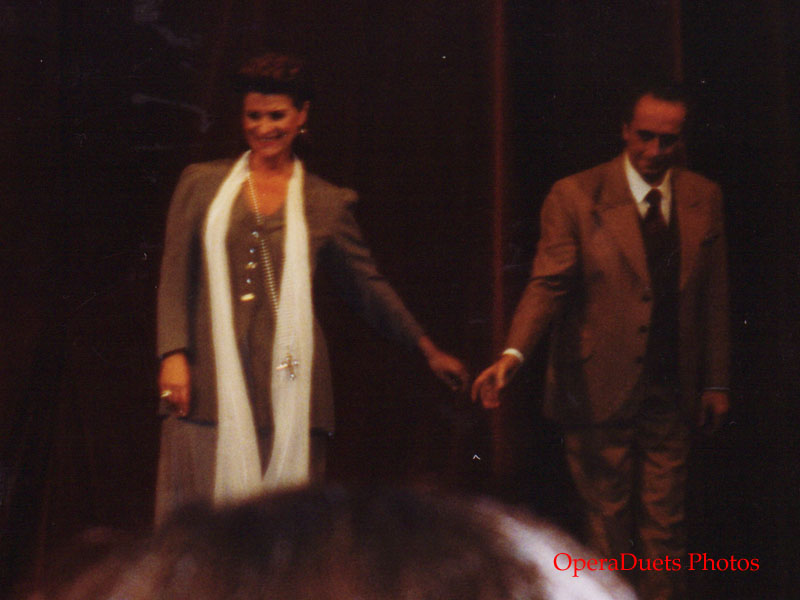 1.act : A room in Vladimir's house in St. Petersburg. The servants drinking, and playing cards. Then the great Fedora (Baltsa) come in. This was so special, that I got tears in my eyes. Never experience something quite like this. Great acting-singing everyone. Great Cirillo.
2. act : Fedora's house in Paris. Ballroom. A great ballroom, nice dresses. When Carreras came into the stage, my heart almost stopped. So good-looking, in god form. Singing like a god. Baltsa was great, but she was overwhelmed by Carreras. Amor ti vieta, was a dream. The high-charge duets, was gorgeous.
3. act : Love-nest in Switzerland. A great act, with overwhelming duets.
Never was Fedora's death so moving.
Musikalische LeitungDAVID GIMÉNEZ
InszenierungGRISCHA ASAGAROFF
BühnenbildANDRZEJ MAJEWSKI
KostümeJAN SKALlCKV
BeleuchtungJAKOB SCHLOSSSTEIN
ChorJÜRG HÄMMERLl
Bedienstete, Ballgäste
und PolizeiagentenANNA-MARIA JOURVELIN*O,
JENNIFER M. CHUNG*o, KARIN FRIDH*o,
CHRISTA RATZENBÖCK*o,
.,FRANCISCA BEAUMONT*o, SIMON JAUNIN*o,
DANIEL DIMITROV*o, ANDREW COSTELLO*o,
KENNETH ROBERSON*o, ARNO WEINLÄNDER*o
STATISTENVEREIN AM OPERNHAUS ZÜRICH
Ein SavoyardeJUDITH SCHMID*
Chor der BäuerinnenZUSATZCHOR OPERNHAUS ZÜRICH
* Rollendebüt
0 Mitglied des Internationalen Opernstudios
ORCHESTER DER OPER ZÜRICH
,Sonntag, 25. Oktober 1998Wiederaufnahme, Freier Verkauf
Pausen nach dem 1. und 2. Akt
Beginn: 20.00 Uhr
And after a fantastic evening at the opera.
Signierstunde in the Opera Foyer.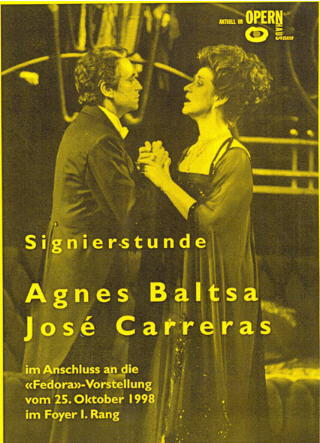 OD Travel
+
Photos