2005-10-22 Rigoletto (Verdi), Opera Nordfjord

Monterone = Knut Skram
Rigoletto = Thorbjørn Lindhjem
Gilda = Trude Helen Binderø
The Duke = Gardar Thor Cortes
Maddalena = Anna Einarsson
Sparafucile = Trond Gudevold
Borsa = Gunnar Domstein
Marullo = Morten Kvaal
Count Ceprano = Bjørn Gisle Seter
Countess Ceprano / The Page =
Ann Magritt Bjørnsen
Giovanna = Solfrid Bjørkum

Michael Pavelich, conductor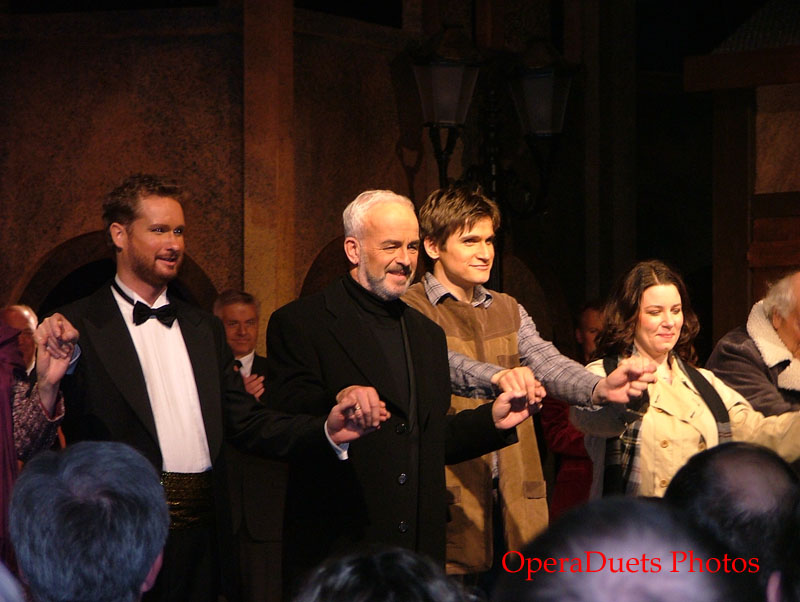 On my OperaDuetsPhotos site I wrote (earlier) that I traveled to Nordfjordeid to see Knut Skram as Monterone.
When Knut Skram came into the stage it was a truly operatic occasion. A thunder, unbelievable wonderful moment that almost in itself foretold that this Rigoletto production was a well-crafted and sure in detail. Was it the director Toralf Maurstad or was it the world famous Norwegian baritone Knut Skram that made the crucial impact. (Probably both...)
Maybe better start from the beginning. On this next to last opera performance for the season, the house was full with people. The scenography it self told of a wonderful opera performance to expect (and the newspapers had had raves for reviews). The Opera intendant Kari Standal Pavelich welcomed us the Rigoletto, one interval after act 1. Then the conductor Michael Pavelich came. And for me I noticed immediately that the responds conductor and orchestra was well-tuned. I did not like the updating and silly dancing in the beginning of act 1, and having a Icelandic tenor singing Questa o quella in Norwegian seemed like a gamble. But to sing the Duke is never easy, and Norwegian would have been hard even for a Norwegian-speaking tenor. He did well, Thor Gardar Cortes, fought bravely with our Norwegian vowels, and even managed to act as the Duke. I think that that all managed very well to sing in Norwegian, having a theatre man as director must have helped a lot. Having Thorbjørn Lindhjelm's Rigoletto meant that bel canto lines were few, mostly a few with Gilda, but opera is not just about singing it is about DRAMA, and here was it high drama, true acting. Having quite a few limitation in his voice and voice production meant that every ounce of opera experience was drawn out to make this Rigoletto stand out as a real human being. When Monterone came in the sonorous voice of Knut Skram, one almost though they should have swapped role, but then the high drama would have suffered. Having a true force of nature as Monterone is so right, and why should poor Rigoletto with his such a life to live in this kind of society sing beautifully, there is no delight in Rigoletto's life than Gilda....
Another wonderful thing in this production is really how the scenography is just working perfectly, so that when Rigoletto is going home and meet the hired assassin Sparafucile it is totally believable. And the one have Trond Gudevold's Sparafucile. Great wonderful acting by both men. A bass that is absolutely perfect and wonderful acting. And then finally Gilda, Trude Helen Binderø, what a warm wonderful soprano voice. It is so seldom that Gilda is sung with such a warmth in color. Those perfectly rounded tones. I think maybe it is because of her special quality of voice that it was often difficult to hear the Norwegian words she sang. There I think the cold and often hard tone of voice of many sopranos that sings Gilda would be more easily to hear the diction. Again our Rigoletto is heroically using his registers to make the father/ daughter duet a beautiful duet. Lindhjem knows how to manipulate his voice in the dramatic right way. The acting is as it was all night perfect. Solfrid Bjørkumas Giovanna was also in every inch the role, very good interaction with Rigoletto, Gilda and the Duke. I did not need to worry about the duet Gilda and the Duke. I am still amazed that it worked so well with the Norwegian lyric. After such love duet, no surprise that Caro Nome was excellently sung by Trude Helen Binderø. And that when the noblemen came to rob Gilda from Rigoletto there was no surprise that the chorus with Marullo, Borsa and Count Ceprano did very well as they did all the evening. It is a joy to have such a believable scene being so well acted and sung.
In the interval I had the pleasure to talk a bit Kari and Michael Pavelich. It is some of nicest features of Opera Nordfjord, you get so close the action and people. It is like a local mega-event.
Act 2 Thor Gardar Cortes sang a wonderful Ella mi fu rapita-Parma veder le lagrime. Something funny must have happened on the stage when the chorus was coming in telling the Duke about Gilda's abduction. There was laughter, and I have no idea what really happened. Anyway, Possente Amor mi chiama was potently sung. And the another "highlight" Rigoletto's Cortigiani...where I longed for more beautiful singing but the drama was there and that is more important. Then it was the duet father/daughter. What can I say, more than fantastic.
Act 3 could it be better, yes. What a quartet, La donna e mobile. And I loved the Swedish mezzo as Maddalena, Anna Einarsson. And the Death scene so moving......
BRAVO!!!!!!!!!!!!!!!!!!!!!!!!!!!!!!!!!!!!!!!!!
From fingers and baton of Michael Pavelich and every single person a Thank You and 3 Cheers!!!
OD Travel
+
Photos