2011-10-14 Gala-Abend mit Startenor Jose Carreras, Konzerthaus Wien

Josep Carreras, tenor
Sylvia Schwartz, soprano

David Gimenez, conductor
Orchester der Volksoper Wien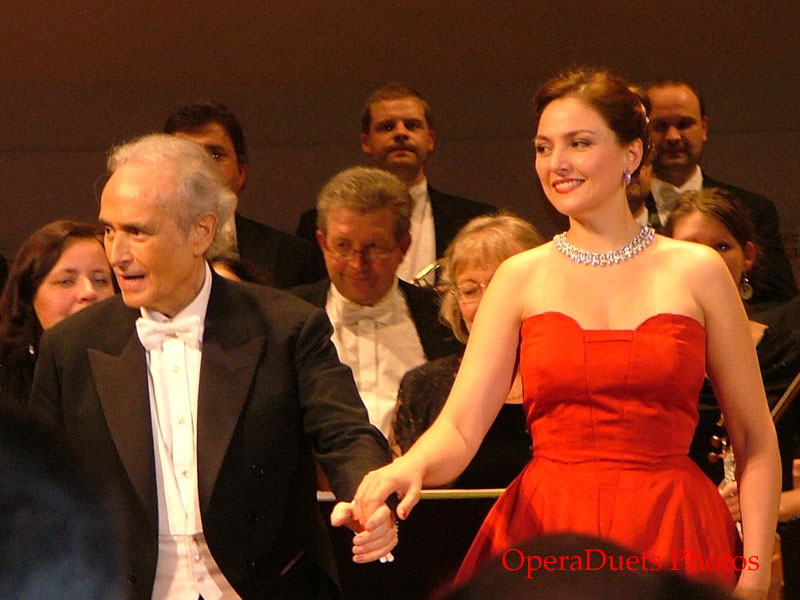 It was Spanish zarzuela and Italian songs. Carreras started softly with Cancion Hungara from Alma de Dios in the first part and ended the second part with full power in Coren'grato. Sylvia Schwartz is a young soprano with a nice voice. She was most impressive when she sang duets with Carreras, especially in El Duo de la Africana. She got to sing some of the best soprano arias from zarzuela and operette, still I was often left cold. The Guiditta aria in the extras was her best. Carreras sang with his soul and mine responded. David Gimenez was a wonderful conductor. Neither singer nor conductor had their notes in front of them, only the orchestra had notes. That was impressive. The orchestra responded well to David Gimenez.
1 El Sombrero de Tres Picos - Danza final 6:21 Conductor David Gimenez
Falla, Manuel de (1878 - 1946)
2 ALMA DE DIOS - Cancion Hungara 4:40 José Carreras
Serrano, José (1873 - 1941)
3 EL NINO JUDIO - De Espana vengo 5:25 Sylvia Schwartz
Luna, Pablo (1879 - 1942)
4Festeig2:49José Carreras
Toldra, Eduard (1895 - 1962)
5Canco de Grumet 2:17 José Carreras
Toldra, Eduard (1895 - 1962)
6 LA BODA DE LUIS ALONSO - Intermedio 5:52 Conductor David Gimenez
Jiménez, José Alfredo (1926 - 1973)
7LA DEL SOTO DE PARRAL - Ya mis horas felices 4:44 José Carreras
Soutullo, Reveriano (1880 - 1932) y Vert, Juan (1890 - 1931)
8 EL BARBERO DE SEVILLA - Me llaman la Primarosa 4:23 Sylvia Schwartz
Jiménez, José Alfredo (1926 - 1973)
9 EL DUO DE LA AFRICANA - Duo y Jota 5:55 Sylvia Schwartz, José Carreras
Fernández Caballero, Manuel (1835 - 1906)
INTERVAL
10 Era de Maggio 2:50 José Carreras
Costa, Pasquale Mario (1858 -1933)
11La Serenata 3:03 José Carreras
Tosti, Francesco Paolo (1846 – 1916)
12 Il Bacio 2:53 Sylvia Schwartz
Arditi, Luigi (1822 – 1903)
13Passione 3:22 José Carreras
Valente, Nicola (1853 - 1939)
14 Tu ca nun chiagne 2:35 José Carreras
de Curtis, Ernesto (1875 - 1937)
15 L'AMICO FRITZ - Intermezzo 4:46 Conductor David Gimenez
MASCAGNI, Pietro (1863 - 1945)
16 Non ti scordar di me 3:09 José Carreras, Sylvia Schwartz
de Curtis, Ernesto (1875 - 1937)
17Les filles de Cadiz 3:35 Sylvia Schwartz
Delibes, Leo (1836 - 1891)
18 Coren'grato 3:09 José Carreras
Cardillo, Salvatore (1874 – 1947)
EXTRA NUMBERS
19 Chitarra Romana 2:17 José Carreras
20 GIANNI SCHICCHI - O mio babbino caro 2:48 Sylvia Schwartz
PUCCINI, Giacomo (1858 - 1924)
21 Extra JC 2:46 José Carreras
22 GIUDITTA - Meine Lippen sie küssen so heiss 5:26 Sylvia Schwartz
Lehar, Franz (1870 - 1948)
23 LA TRAVIATA - Libiamo ne' lieti calici 3:07 José Carreras, Sylvia Schwartz
VERDI, Giuseppe (1813 - 1901)
OD Travel
+
Photos
Original blog post
+
program
For more reviews from my travels, see www.operaduetstravel.com If you want to see more photos from my OperaDuets Travels, go to www.operaduetsphotos.com